Lunar Eclipse of September 27/28 2015 /
Totale Mondfinsternis vom 27/28 September 2015
Gert Gottschalk (TVS Livermore)
---
The total lunar eclipse of Monday September 28th 2015 (Sunday evening September 27th Pacific time ) was supposed to be visible from the Bay-Area. But a band of clouds interfered and the rise of the eclipsed Moon was obscured from Fremont California. Only later a few images were possible after the clouds had passed.
No telescopes were used as the direction to the Moon was not visible from my apartment balcony. Only a Canon DSLR with tele-zoom on a tripod was later used for some quick exposures.
---
Die totale Mondfinsternis vom Montag 28. September 2015 (Sonntag abends 27. September Pazific Zeit Zone) sollte von der Bay Area in Californien sichtbar sein. Leider gab es eine Wolkenbank und der bereits verfinstert aufgehende Mond konnte nicht beobachtet werden. Erst später nach Abzug der Wolkenbank konnten ein paar Aufnahmen gemacht werden. Vom Balkon meiner Wohnung gab es keinen direkten Blickwinkel zur Finsternis. Später wurden ein paar Bilder mit Tele-Zoom Objektiv und Canon DSLR gemacht. Belichtungszeiten und ISO wurden angepasst, um die beleuchteten und verfinsterten Teile des Mondes zu zeigen. Die Belichtungen wurden automatisch mit gphoto2 (Link
---
Weather map.
Wettervorhersagekarte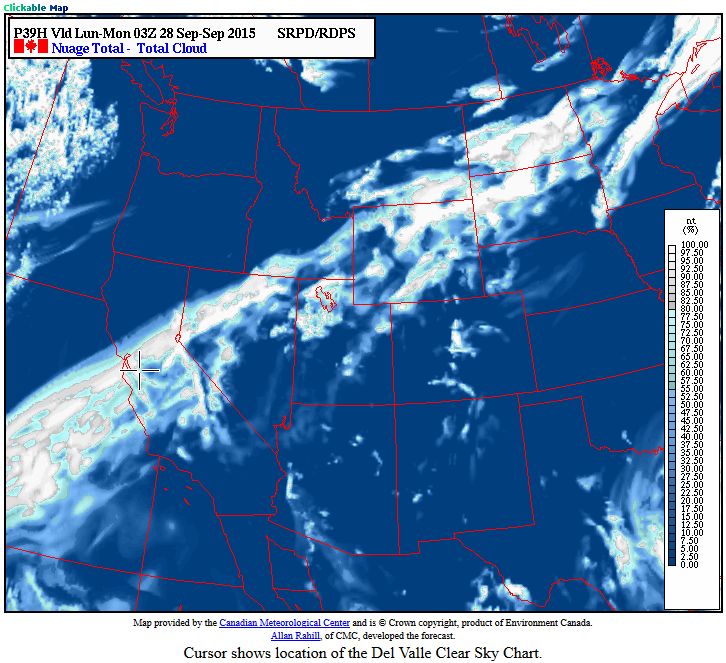 Coulds late afternoon, a clear stripe towards Northwest and evening colors towards East
Wolken am Nachmittag, ein klarer Streifen am Nordwesthorizont und Abendrot in Richtung Mondaufgang.



Ending partial phase of the eclipse.
Ende der partielle Phase.






Copyright images and processing Gert Gottschalk.
Copyright Bilder und Verarbeitung Gert Gottschalk
Back to my astronomy home page
Zurück zur Astronomie Hauptseite