The 2001 Leonid Meteor Shower

The 2001 Leonids were predicted to show a peak of meteor intensity at 10:00 - 11:00am UT (2:00 - 3:00am PST) on november 18 2001. This puts the Tri Valley Stargazers dark sky observing site the 'Hidden hills Observatory' near Livermore CA in a very favorable viewing position. A group of observers from the club met at the site and observed visually as well as using photo cameras.
The maximum of the shower occurred between 2:00am and 3:00am PST with meteors arriving at a rate of almost one per second. Only the brightest were giving off enough light to be captured on film. So the number on the images is pretty small and not giving a representation of the visual appearance.
All images were taken by Gert Gottschalk using a 16mm f2.8 fisheye lens. Each exposure was 10min. Click on the images for a larger version.


This image is from 10:25am UT (2:25am PST). There are 4 Leonids in the center and one in the lower right corner of the image. The radiant effect from the constellation leo is nicely visible
The next image is from 10:35am UT (2:35am PST). A bright Leonid is visible at the left side of the image. Three or four more are in the center of the field.
In the imaging immediately following the previous one the remaining light cloud from the bright meteor is still visible. There are two more Leonids in the lower portion of the image. The exposure was made 10:45am UT (2:45am PST).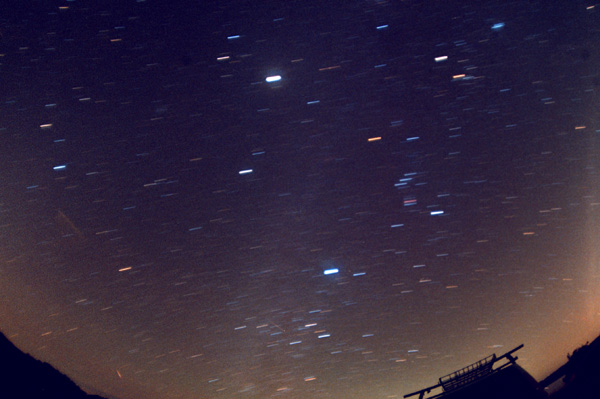 All photos (c) Gert Gottschalk 2001, drgert1@yahoo.com