Planets Observing Campaign 2022
Latest observations added at the top.
Images taken with 5inch or 6inch APO refractor or 12inch CDK or 13inch Newtonian
Recording with ASI224MC or ASI120MC / ASI174 with FireCapture. Processing in AstroStakkert!3, Registax 6 and Photoshop CS2.
2022-01-17 18:58UT. We start the 2022 planets observing campaign with a day time image of Venus near inferior conjunction. This makes for a large thin crescent of the planet. Illumination was 3.3% Inferior conjunction was 2022-01-09 01UT so the observation was just 8 days after that at an elongation of 15 degrees. The elongation will increase rapidly as Venus moves into the morning sky.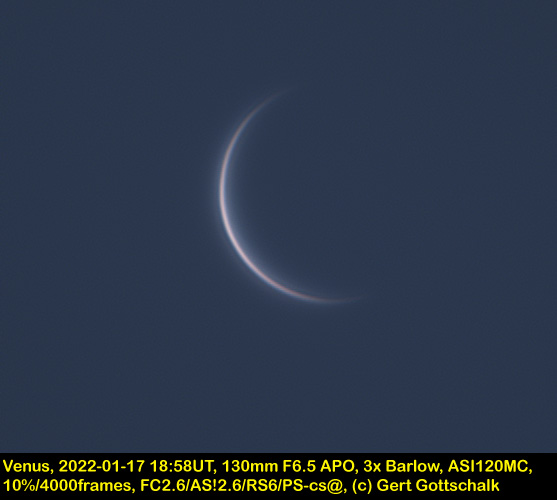 Copyright images and processing Gert Gottschalk.
Copyright Bilder und Verarbeitung Gert Gottschalk
Email : drgert1@yahoo.com
---
Back to my astronomy home page
Zurueck zur Astronomie Startseite
---